September 29th, 2020
Check out the latest addition to our products and services! We now offer mobile site offices for sale (or hire), suitable for a range of uses including construction site offices, temporary training rooms or office spaces, event production offices and more. For further information click on the Trailers for Sale page or call us on 01543 546474.
September 25th, 2020
Our Airstreams are now available for short-term or long-term hire for glamping so if you are planning a unique Autumn break give us a call to find out more on 01543 546474. We deliver and set up the fully-equipped Airstream – so you just need to find a site with toilet and shower blocks open and you're ready to have a break with a difference!
September 17th, 2020
We are delighted to be exhibiting at the Glamping Show at Stoneleigh Park this Thursday, Friday and Saturday, showcasing two of our vintage Airstreams, Marilyn and Dolly, which are now available to hire as an extra revenue stream for your glamping business, to provide quirky temporary accommodation options, for weddings, parties and events or to promote your brand. Come and see us at Stand OSA560 or call us on 01543 546474 to find out how we can work with you.
August 17th, 2020
If you're as excited as we are about The Dairy Show on the Bath & West Showground on 7 October, get in touch about exhibition trailer hire! Our event and hospitality units provide ideal facilities for greeting old and new clients and as a base for staff – ask about our social distancing packs to provide a safe but welcoming environment. The event will be celebrating 40 years of promoting local and global agricultural brands – surely something to celebrate!
Call us on 01543 546474 to check trailer hire prices and availability.
May 28th, 2020
We're seeing green shoots of recovery and we couldn't be more excited. Yes, it's been tough but we've been focusing on what we do best – getting ready to support our amazing clients with events and promotions, building new stock, having a good clear out and actually doing the filing. We are now taking orders for high street promotions, shows and roadshows so give us a call on 01543 546474 – we can't wait to speak to you.
March 30th, 2020
We would like to inform you that our hire centre and delivery/ courier service is open and operating as normal!
We have a wide range of vans, pick up trucks, defenders and box trailers available for immediate hire.
So if you are in the Lichfield or Staffordshire area and are interested in any of these products or services please call Martin on 07970 729751. If you have any concerns about collecting from our hire centre we can arrange delivery to your chosen location.
Our number 1 priority is the safety and well being of our staff and customers, therefor whilst open and operating for business we will be following government guidelines.
March 12th, 2020
We've just released some of our exhibition and event trailers from our hire fleet. All are in great condition, fully maintained and serviced and are ready to use – sizes vary from 4.2m to 5m so give us a call on 01543 546474 to find out more.
February 21st, 2020
Scotplant is Scotland's largest construction equipment trade show. Attended in 2018 by over 4,500 construction trade professionals, it's become known by exhibitors as the event where high-value deals are done – therefore, presenting your stand well and making customers comfortable is a must!
We are running special offers on a range of our exhibition trailers and hospitality units. These costs include delivery, collection and a selection of furniture. We can also provide branding, flooring, fencing, power and hospitality packages. Call us now on 01543 546474 for savings that can't be missed.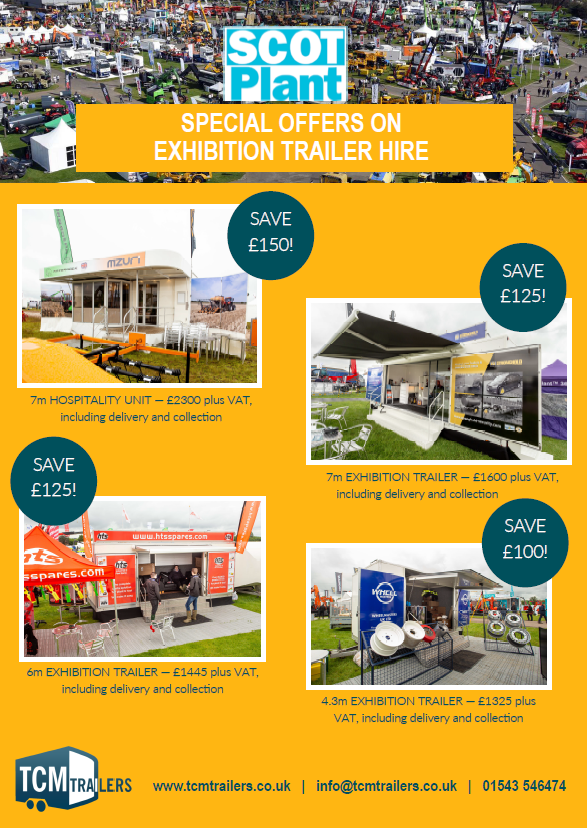 February 20th, 2020
We've been busy photographing our new range of event accessories, all now available to hire – flower arches, easels, photo backdrops and more so give us a call on 01543 546474 for prices and availability.
February 19th, 2020
With the Event Production Show 2020 just around the corner we are finalising our plans and getting ready to meet event professionals from across the live events industry. EPS 2020 is moving to the Excel Centre in London alongside Confex and the PA Show and will take place on the 25 – 26 February.
We will be showcasing our exhibition trailers, vintage Airstreams, event packages and accessories available to hire. You will be able to see an example of our newbuild exhibition trailers as the Event Office on the Mash Media stand and our stand C26E (just next to the experiential theatre) will be graced with Marilyn our vintage Airstream who will be pretty in pink and luckily dry January will be over as we will be giving away free cocktails and goodies as always!

It's a fantastic event and free to visit so make sure you register if you haven't already done so! https://eps-2020.reg.buzz/website We look forward to seeing you there.