April 6th, 2021
Our existing Airstreams are being tarted up and polished ready for a hectic Glamping season, with UK staycations at an all time high. We're also really excited to announce that we have two new Airstreams (Daisy Duke and Bessie) en-route from the USA to join the TCM family. Check out our social media for the latest news or to check Airsteam availability for events, brand activations or Glamping, call us on 01543 546474.    
April 6th, 2021
Our team are busy taking enquiries for the show season for exhibition and hospitality trailers with our No Deposit book-with-confidence guarantee – if your outdoor event or show is cancelled with ten days notice you'll pay no charges. We're anticipating a hectic 2021 once outdoor events start, with greater emphasis on the safety of outdoor versus indoor gatherings over the next two seasons.  To book a trailer for your 2021 event, call us on 01543 546474 to check prices and availability.  
April 6th, 2021
Following demand from the UK film and TV production industry, this week we completed 11 trailer conversions to hand wash and welfare units. We are really excited about this new use for our trailer fleet which we expect will continue long after covid restrictions lessen, with the continued emphasis on handwashing and sanitising. For more information about handwashing trailers, call us on 07970 729751.
March 30th, 2021
We're really excited that the first major outdoor show of 2021 is going ahead – so if you are exhibiting at Rail Live and need an exhibition or hospitality trailer, give us a call on 01543 546474.
March 8th, 2021
We were delighted last week to deliver our first handwashing and hand sanitising trailer for the film and TV production industry, incorporating two hot water sinks and two hand sanitising units, with space for storage and an office base. Give Martin a call on 07970 729751 for further details.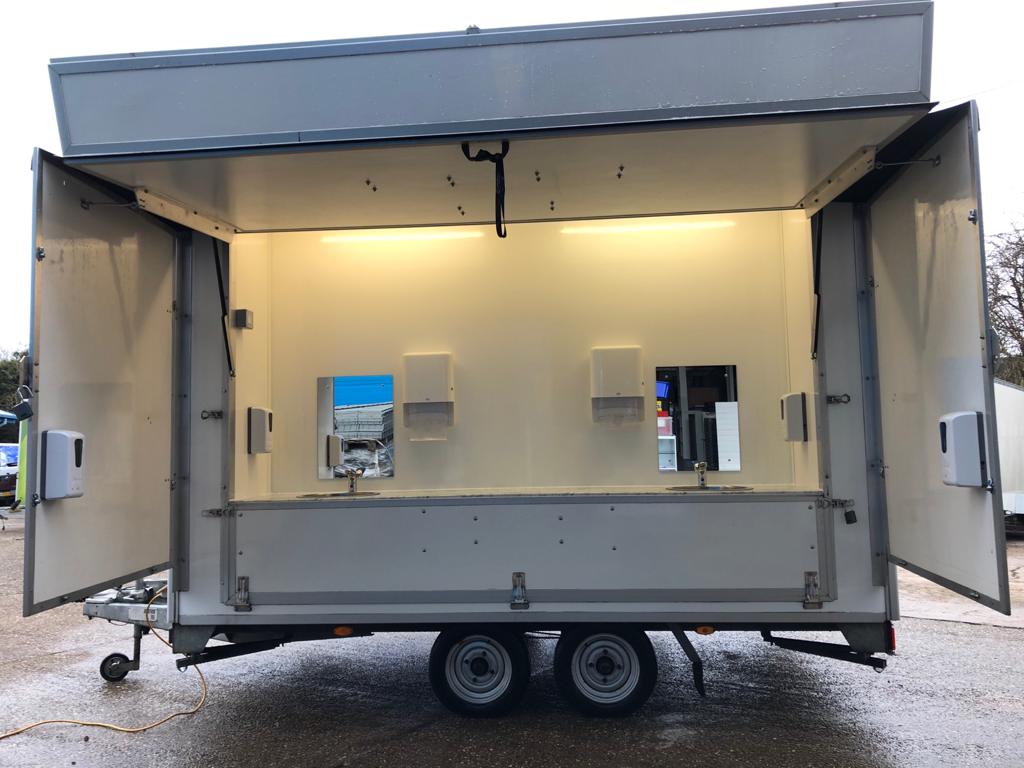 March 1st, 2021
We're really excited to be taking bookings for the summer shows – Cereals, Hillhead, Rail Live, Grassland and more, so if you are looking for an event trailer give us a call on 01543 546474 to find out prices and availability.
January 5th, 2021
If you need mobile vaccination centres we have trailers available for immediate deployment anywhere in Great Britain, ranging from 4.3m to 7.5m in length – flexible hire periods and quick turnarounds are our speciality! Call us on 01543 546474 for prices and availability.
September 29th, 2020
Check out the latest addition to our products and services! We now offer mobile site offices for sale (or hire), suitable for a range of uses including construction site offices, temporary training rooms or office spaces, event production offices and more. For further information click on the Trailers for Sale page or call us on 01543 546474.
September 25th, 2020
Our Airstreams are now available for short-term or long-term hire for glamping so if you are planning a unique Autumn break give us a call to find out more on 01543 546474. We deliver and set up the fully-equipped Airstream – so you just need to find a site with toilet and shower blocks open and you're ready to have a break with a difference!
September 17th, 2020
We are delighted to be exhibiting at the Glamping Show at Stoneleigh Park this Thursday, Friday and Saturday, showcasing two of our vintage Airstreams, Marilyn and Dolly, which are now available to hire as an extra revenue stream for your glamping business, to provide quirky temporary accommodation options, for weddings, parties and events or to promote your brand. Come and see us at Stand OSA560 or call us on 01543 546474 to find out how we can work with you.